If you're not new to online marketing, you've probably heard about explainer videos, whiteboard animations and many other terms. There have been tools like Powtoon, videoscribe and many others to help simplify the creation of animation videos. And now we have avatarbuilder, the drag and drop 3D animation video maker that lets you create 3D pixar style animation characters without any technical experience. In this Avatarbuilder review, we go deep into this tool to reveal the good and the bad and to determine if Avatarbuilder is a legitimate video marketing tool or just another over hyped product promoted by affiliates.
The creator of Avatar builder (Paul Ponna) is a man with great reputation in the internet marketing scene. He (and his partner Sid Diwar) are the brains behind the launch of tools like: chatterpal, Videofx and many others. It's no surprise that even top affiliates were willing to bank on avatarbuilder. The idea behind avatarbuilder is to help create any kind of avatar or cartoon character to help deliver your marketing message to your customers
With many affiliates banking on Avatarbuilder as the next big thing in video marketing, does this mean it's worth the hype? Can we trust Avatarbuilder to deliver? It looks like just amother animation software, so what sets it apart from other tools and should you buy this product?
In this Avatar builder review, I'll go through the avatarbuilder to show you—what it does, the pros and the cons, features and every detail that you need to know. This review will be based on my own experience using the Avatarbuilder Front end which comes with the core Avatar builder features.
Regardless of whether you choose to Avatarbuilder as your preferred animation tool or not, all I'll say is that – it is an important video marketing tool that everyone should be familiar with. Before you dive in, what's our rating? I'll rate this 4.5 stars. Every Software/tool has its drawback (including this) but it's still a good product regardless. Keep reading to find out why.
Avatarbuilder Review Highlights
Here are some few takeaways from this post:
Avatarbuilder is a good  custom 3D animation character with an easy drag and drop  editor.
Avatarbuilder gives you total control over the Customization process.
Easy to use and learn, you don't need any technical skills to use this software.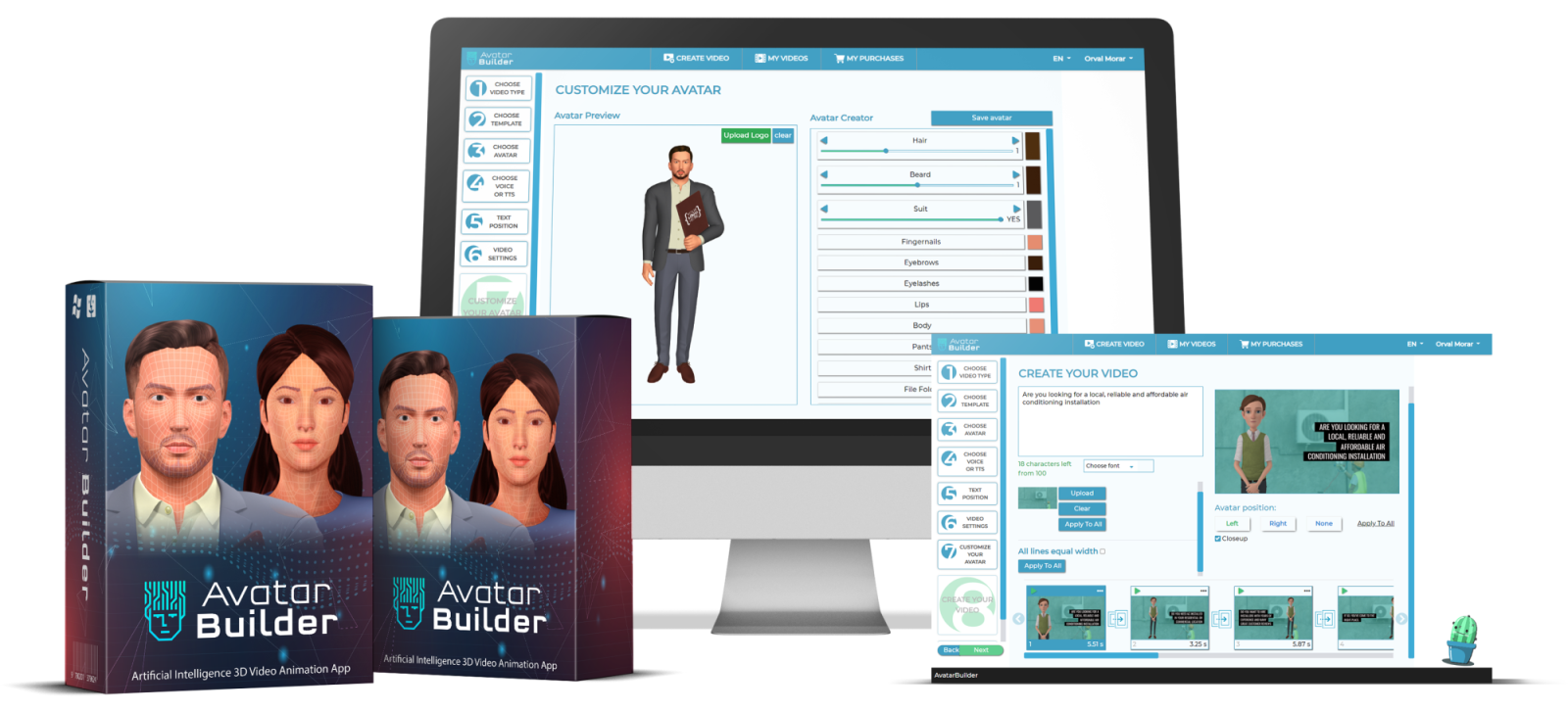 What is Avatarbuilder?
The multiple award winning tech entrepreneurs, Paul Ponna and Sid Diwar (the creators) describes it as first to market software that can helps you create custom 3D human style avatars to convey your marketing message to your audience.
What are Explainer Videos?
Before continuing with this Avatar builder review, let's clarify what an explainer video is. To put in simple terms, explainer videos are short marketing videos used to explain a company's product or service. They often placed on landing pages, product pages and sometimes used in online advertisement. Explainer videos are important because they have been proven to boost click through rates and boost conversions.
Avatarbuilder Review – Features
Below are the features of Avatarbuilder
Smart scene creator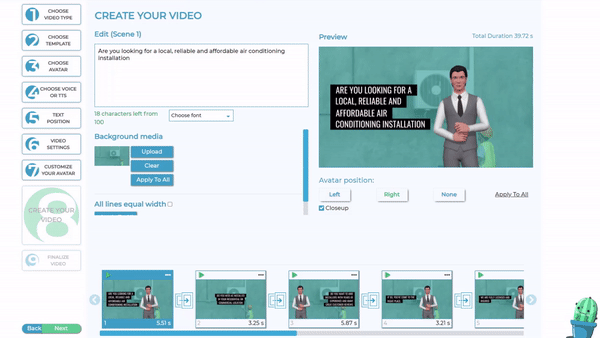 With avatarbuilder, you can automatically turn any text to video with the AI powered smart scene creator.All you have to do is input your text and within seconds the software converts them into video scenes with your desired fonts and effects. It also comes with text-to speech technology, which helps you get the best out of your videos.
3D Pixar and Disney style Talking Avatars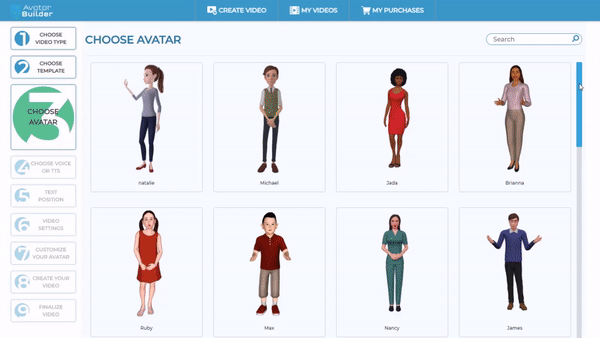 This software comes with a variety of pixar and Disney styled avatars which represents different age groups, profession and ethnicity. These avatars help convey your marketing message to your audience.
Done for you Video Templates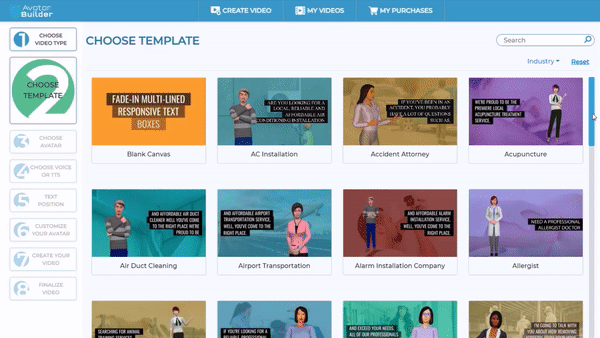 Avatar builder comes with hundreds of done for video templates that help you remove trial and error from your video creation process and lets you create videos faster. You can personalize each video template to your desire and there's no limitation to the customization process.
State of the art Logo Mapping technology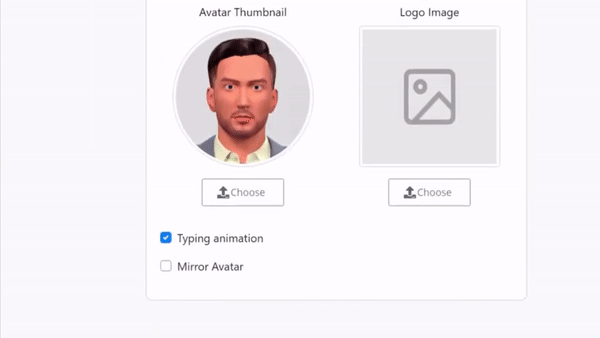 With avatarbuilder's logo mapping technology you can add your own logos to the avatars, objects in the video and even create a watermark with your logo.This can help build credibility of your brand.
Multilingual Technology
Create videos in whatever language you want with Avatarbuilder. This software gives you unlimited access to all the multilingual technologies embedded in this tool. In just one click, you can lip-sync any voice with the avatars and get them to speak in any language.
Drag & Drop Video Editor
We've heard about drag and drop page builders like elementor , Katra, groovefunnels and many other. The creator of this software have used this same technology used in web design for video editing.This means, you don't need any technical skill to use this software. Simply drag n drop and create your videos
Text To Speech
What more? Avatarbuilder also comes with its own human like text to speech technology that converts your text into human voice overs
Copyright Free assets
This software gives you access to huge gallery of copy right free graphics & templates that you can use in your video creation process.
Avatarbuilder Review – Demo
Check out the complete demo of this software below
Who is Avatarbuilder for?
This software is for anyone who wants to create engaging animation video that helps sell their product or services without the technical skills involved in creating animated videos. It is for Youtubers/Content creators, entrepreneurs, affiliate marketers, small and medium business owners, freelancers , video marketers and many others.
Here are some of the videos made with Avatarbuilder.
Web Design
Dentist
Real Estate
Pros & Cons – Avatarbuilder Review
Pros
Unlike other tools out there, Avatarbuilder is a onetime payment tool. There are no monthly fees.
Avatar builder is unlike any other tool out there, it gives you have complete control over the Customization process. You can change complete look of your avatars ( hair, skin tone, accessories ,sex , profession etc). There are also a wide variety of props like shoes, watches and lots more.
Access to multilingual technologies that helps you reach 10x more customers
Avatarbuilder saves you money with it text-to-speech engine and multilingual technology. You do not need to hire expensive voice artists or language translators.
Comes with a 30 day money back guarantee
Con
The only con I've found with this tool is the ton of upgrades it has. But, it works perfectly fine without it. For a normal user like me, the Front end commercial license alone is enough.
Avatarbuilder Pricing
Avatarbuilder has one front end and 4 OTOS
FRONT-END PRICING: [$47 ONE-TIME]
Visual Custom Avatar Builder
Artificial Intelligence Scene Creator
Disney & Pixar Style 3D Avatars
Hundreds of Ready-Made Video Templates
Logo Mapping Technology
Open-Canvas Custom Video Maker
200+ Award Winning Text-to-Speech Voices
1-Click Language Translation
Speech-To-Text Transcription
Millions of Royalty-Free Images & Videos
Built-in Copyright Free Music Library
720P HD Videos
Step-By-Step Training
6 Minutes Max Video Length
Unlimited Video Renders
Commercial License
Sell the Videos
Facebook Group Access
Skype Mentorship Group Access
8 Week Training Webinars
OTO #1 – AvatarBuilder Elite Upgrade ($49 One-Time)
Get access to additional features worth thousands. 10X your results, sales and profits and get ahead of other AvatarBuilder customers!
New 3D Avatars Monthly for 1 Year (One-Time Price): Brand new customizable 3D avatars added to your account each month for 1 year (no monthly fees).
5 New Premium 3D Avatars Unlocked Immediately
Premium Text Effects, Animations & Fonts
Premium Stock Image / Video Asset Library
Unlimited Background Removal
Premium Slide Transitions
200 Premium Music Files Library
VIP Customer support
Premium Rendering Amazon Cloud Server
Priority Video rendering
Priority Access to future App updates
OTO #2 – AvatarBuilder Agency Upgrade ($67 One-Time)
Skyrocket revenues and start selling your videos for hundreds of dollars with the agency upgrade.
Double Your Video Length (12mins)
1080p Video Renders
Ready Made HUMAN Voice overs for all templates
Convert any audio to a stunning video with speech-to-text transcription.
Save the custom Avatars You Build – Reuse Customer designed avatars for future videos.
Done-For-You Video Agency Package – Comes with done-for-you sales video, business cards, brochures, flyers, ready-made emails, invoices, letterheads, client contracts and a whole lot more!
Done-For-You Client Contracts
5 Extra Accounts For Virtual Workers & Family
150,000 Video Scripts & Articles (create videos on any topic or niche with ease!
Step-By-Step Videos On How To Sell Videos For Top Dollar
OTO 3 – AvatarBuilder Template Hub Upgrade ($39 One-Time)
Brand New Video Templates from the Hottest Niches added to your account For 1 Year (No Monthly Fees)
Unlock 500+ New Templates Immediately (50 per category)
OTO 4 – AvatarBuilder VoicePro Upgrade ($29 One-Time)
Unlock 100+ Premium Male & Female Text-to-Speech Voices In The Most Popular Languages and Accents.
Instant Download To 200 Human Voiceovers on Hottest Niche Topics. Can Download the Voice Overs and Use it in Other Video Apps.
Avatarbuilder review – Conclusion
So, what's the final verdict about this animation tool? It's great—4.5 out of 5 stars! It's worth trying out. If you're looking first and foremost for an easy but solid 3D animation video maker an explainer video software, Avatarbuilder is a great tool.
Exclusive Bonuses
You the opportunity to get exclusive bonuses (including the vendor bonuses) along with avatarbuilder. All you need to do is order Avatarbuilder through any of the links on this page and your bonuses will be automatically delivered to you.
Lazy cash Manifesto
Discover how to make extra $3,000 using the simplest traffic source you can think of.
100 PLR Products with master resell rights
You'll get 100 products with resell rights and giveaway rights which means you can either sell them and make money or you can give them away to build your list.
Buyer Traffic Masterclass
This simple video guide will show you how to work 10 minutes or less and generate 1000 to 3000 visitors per month 100% free from Google and Youtube. The interesting part of this technique is that the least time you work, the more money you can make.
Dominate Instagram Marketing
This is a 239 pages guide on how to build a massive following on Instagram and make money with your Instagram account.
Youtube Ultimate
Create insanely popular youtube videos with no cam or mic
Easy content Sites
This guide teaches you how to create , extremely low completion websites, rank for them easily on google and monetize them to make money.
Click on the button below to order Avatarbuilder